This is a list of books recommended for more insight on how to improve feelings about yourself: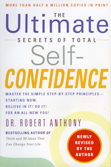 Dr. Robert Anthony
The Ultimate Secrets Of Total Self-Confidence
Find on Amazon
Dr. Anthony offers a handbook for breaking loose from mediocrity and dissatisfaction. His approach is foundeed on the principle that every person does his or her best in every situation given their current level of self-awareness; by being willing to open up our minds and question those old beliefs, realign our thoughts using our creative imagination, and reach for our passionate motivation and sense of purpose, we can raise our awareness as well as our expectations, and set ourselves on the road to a better future.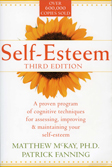 Matthew McKay, Ph.D. and Patrick Fanning
SELF-ESTEEM: A Proven Program Of Cognitive Techniques For Assessing, Improving, and Maintaining Self-Esteem
Find on Amazon
Self-Esteem serves as a comprehensive guide, offering proven programs for assessing, improving, and maintaining your self-esteem. Learn step- by- step methods for helping you achieve the following: Handle your mistakes and respond well to criticism, foster compassion for yourself and others, set and meet goals that will enrich your life, use visualization for self-acceptance, and build self-esteem in children.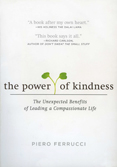 Piero Ferrucci
The Power Of Kindness
Find on Amazon
Piero Ferrucci points out that the kindest people are the ones most likely to flourish, and in turn enable others to thrive. Ferrucci explores the many surprising facets of kindness and points out that it is this trait that will lead to your own individual happiness and the happiness of those around us.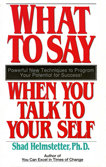 Shad Helmstetter, Ph.D.
What To Say When You Talk To Yourself
Find on Amazon
Dr. Helmstetter shows you how to make positive self-talk a permanent habit. Learn how to create the energy to turn your dreams into reality by unlocking the secrets of what to say when you talk to yourself. Imagine relying on no one but yourself to optimize your outlook, focus your plans, and keep you on top, in touch, and going for your dreams.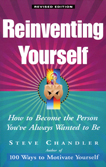 Steve Chandler
Reinventing Yourself
Find on Amazon
Steve Chandler helps you develop your hidden potential. You will learn techniques for breaking down negative barriers and letting go of pessimistic thoughts that prevent you from achieving your dreams and goals. The book offers many recommendations on how to reinvent yourself from the limited, fictional persoanality of old to the person you have always wanted to be.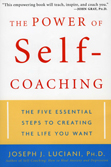 Joseph J. Luciani, Ph. D.
The Power Of Self-Coaching
Find on Amazon
Nobody is born insecure, angry, bored, or depressed. Dr. Luciani explains how unhappiness is just a bad habit. This self-coaching program will help you unlearn reflexive, destructive thinking and arm you with the tools you will need to free yourself from your mental and emotional traps. You will learn how to identify patterns of thought and feelings that are making you unhappy. Develop self-talk techniques to develop new, healthy ways of thinking and feeling, and tap into your creative, intellectual, and emotional potential to live the life you deserve.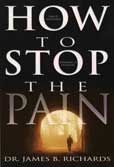 Dr. James B. Richards
How To Stop The Pain
Find on Amazon
How to Stop the Pain is about the pain we all experienec every day. Learn how to break the link to the pain from the past. Identfy the sources for your suffering. Learn how to not be hurt by insults or criticism. Free yourself from the need to judge others. Every day millions of people live in heartache. You've been wounded, and just can't seem to heal. You try to get on with your life but just can't seem to move forward. This book will free you from the forces that would turn you into a victim. It will lead you through a step by step process that will free you from the pain of the past and protect you from the pain of the future.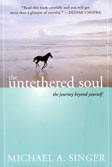 Michael A. Singer
The Untethered Soul
Find on Amazon
The Untethered Soul walks you through your relationship with your thoughts and motions, helping you to uncover the source of your inner energy. It teaches you what you can do to free yourself from habitual thoughts, emotions, and energy patterns that limit your consciousness. Finally, with perfect clarity, the book opens a door to life lived in the freedom of your innermost being.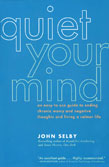 John Selby
Quiet Your Mind
Find on Amazon
Quiet Your Mind teaches you how to shift away from negative mental habits toward a place of inner clarity and peace. It includes guidance that will help you to:
1) Liberate your mind from deep-seated prejudices and self-judgments.
2) Stop dwelling on the past and feeling anxious about the future.
3) make decisions from a place of clarity and love-not fear.
4) Learn specific practices for all areas of your life.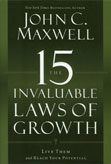 John C. Maxwell
The 15 Invaluable Laws Of Growth
Find on Amazon
John Maxwell explains 15 core principles for reaching your full potential. Now, for the first time John shares everything he has learned about developing yourself so that you have the best chance of reaching your fullest potential.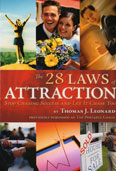 Thomas J. Leonard
The 28 Laws of Attraction
Find on Amazon
With Thomas Leonard's time-tested, power-packed system, you will learn how to maximize the brilliance and energy you already possess to create a thoroughly satisfying life. As you apply these 28 laws, you'll gain the ability to define what success is for you, and learn how to attract the things that matter the most to you in life.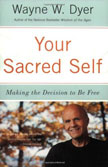 Wayne W. Dyer
Your Sacred Self
Find on Amazon
In this liberating book, Wayne W. Dyer teaches us: To tap the power of our highest self, to live each day with a power of peace and fulfillment, to develop a sense of satisfaction with ourselves and others, and to move from our insatiable need for more to an awareness of abundance.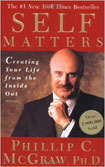 Phillip C. McGraw, Ph. D.
Self Matters
Find on Amazon
Self Matters creates a new way of thinking.  Phillip McGraw takes self-awareness to the next level with a variety of interactive exercises, focusing on such issues as: Identifying the content for your personal truth, reprogramming your life patterns so you can create the future you want, and identifying key areas of conflict between fictional and authentic living.