This is a list of books recommended for more insight on parenting: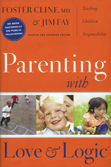 Foster Cline, MD., and Jim Fay
Parenting With Love And Logic
Find on Amazon
If you want to raise kids who are self-confident, motivated, and ready for the real world, take advantage of this win-win approach to parenting. Your kids will win because they will learn responsibility and the logic of life by solving their own problems. You'll win because you'll establish healthy control without resorting to anger, threats, nagging, or exhausting power struggles.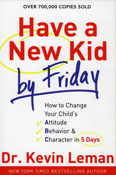 Dr. Kevin Leman
Have a New Kid by Friday
Find on Amazon
Change your child's attitude, behavior, and character in 5 days. Have a new kid by Friday spells out a 5-day action plan for you to follow.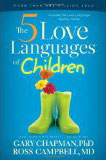 Gary Chapman and Ross Campbell
The 5 Languages of Children
Find on Amazon
You love your child but how can you show it so they really feel loved? Discover your child's love language and gain an understanding about the link between successful learning and personal growth and the five love languages.