This is a list of books recommended for more insight on understanding the grieving process: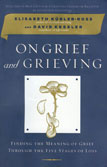 Elisabeth Kubler-Ross and David Kessler
On Grief And Grieving
Find on Amazon
The book applies the five stages of death to the grieving process and weaves together theory, inspiration, and practical advice, including sections on sadness, hauntings, dreams, isolation, and healing.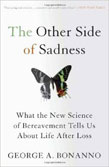 George A. Bonanno
The Other Side of Sadness
Find on Amazon
The Other Side of Sadness is a game changer. Bonanno carefully assembles scientific evidence to show that the conventional view of grieving, including the famous five stages of acceptance and enduring, is just plain wrong.  If you want to know the truth about the human experience of loss, there is just one great book to read.  The Other Side of Sadness is a refreshingly positive perspective on death and dying.  In fact, Bonanno shows how death can actually deepen interpersonal connections and even lead to a new sense of meaning in life.  The Other Side of Sadness will be fascinating for anyone interested in our innate ability to thrive in the face of adversity.