This is a list of books recommended for more insight on public speaking: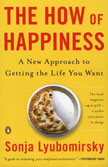 Sonja Lyubomirsky
The How of Happiness
Find on Amazon
Many people look for happiness in the wrong places. We have been conditioned to think that things like a dating partner, beauty, a promotion, or material possessions will make us happy. Unfortunately, while we pursue these short-term pleasures, we ignore the more effective routes to long-tem happiness. Dr. Sonya Lyubomirsky reveals that much of our capacity for happiness is within our power. The How Of Happiness details and delivers a positive and empowering way to sustain a new level of joy in our lives.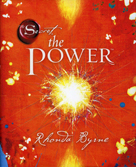 Rhonda Byrne
The Secret: The Power
Find on Amazon
The life of your dreams has always been closer to you than you realize, because the power of love is inside you. To create anything, to change anything, all it takes is just one thing: the power of love. As you come to understand the way life works and the power you have inside you, you will experience the magic of life in its fullness-and then you will have an amazing life. Rhonda Byrne teaches, "when you give the power of love, it will come back to you."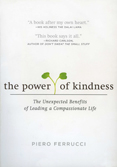 Piero Ferrucci
The Power Of Kindness
Find on Amazon
Piero Ferrucci points out that the kindest people are the ones most likely to flourish, and in turn enable others to thrive. Ferrucci explores the many surprising facets of kindness and points out that it is this trait that will lead to your own individual happiness and the happiness of those around us.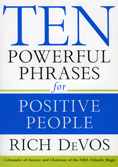 Richard DeVos
Ten Powerful Phrases For Powerful People
Find on Amazon
Ten Powerful Phrases For Positive People offers you the key to unlocking your powerful potential. Simply by adding ten life-changing phrases to your daily conversations, you can build relationships, motivate achievement, instill confidence, and change attitudes in your work and family life.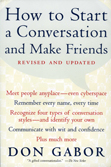 Don Gabor
How To Start A Converstaion And Make Friends
Find on Amazon
Follow Don Gabor's simple guidelines and you'll be able to strike up a conversation with anyone anywhere. Learn how to keep the conversation going by asking the right questions, using the right body language, and avoiding conversational pitfalls.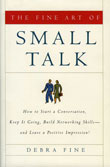 Debra Fine
The Fine Art Of Small Talk
Find on Amazon
Debra Fine will show you how to connect with others regardless of the occasion, come across composed and self-assured, start a conversation, avoid awkward silence, adopt effective listening skills that will make you a better communicator, convey warmth and enthusiasm, make a positive lasting impression, and exit gracefully.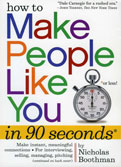 Nicolas Boothman
How To Make People Like You In 90 Seconds
Find on Amazon
How To Make people Like You In 90 Seconds or Less teaches you how to establish instant rapport and make the very best of any relationship within the most criticl first 90 seconds. Learn how to make instant and meaningful connections when searching for a best friend. Step by step it shows you how to make the best of any relationship.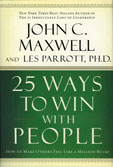 John C. Maxwell and Les Parrot
25 Ways To Win With People
Find on Amazon
John C. Maxwell and Les Parrot's best-selling book offers specific action steps for building great relationships. Learn how to unlock your personal charisma to win with every person you encounter.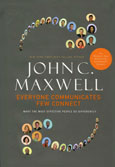 John C. Maxwell
Everyone Communicates Few Connect
Find on Amazon
John C. Maxwell says if you want to succeed, you must learn how to connect with people. Anyone can learn how to make every communication an opportunity for a powerful connection. Maxwell shares his five principles and five practices to develop the crucial skill of connecting.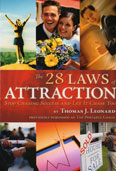 Thomas J. Leonard
The 28 Laws of Attraction
Find on Amazon
With Thomas Leonard's time-tested, power-packed system, you will learn how to maximize the brilliance and energy you already possess to create a thoroughly satisfying life. As you apply these 28 laws, you'll gain the ability to define what success is for you, and learn how to attract the things that matter the most to you in life.