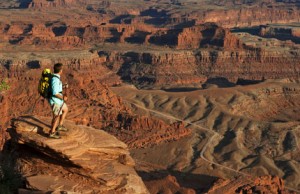 All people have the ability to reach their full potential. So what stops so many people from feeling successful? One of the main reasons is many people do not believe in themselves; they possess a low self-image. It is very difficult to grow into the person you want to become when you have low self-esteem. Everyone's life is impacted either positively or negatively by the way they see themselves. If you do not believe in yourself, you put a ceiling on your potential. Your self-esteem is the key to your actions. To grow toward reaching your full potential you must learn ways to build your self-esteem. To reach your full potential you must start by adding value to yourself.
The following are eight ways to build your self- esteem which I learned from a great book, The 15 Invaluable Laws of Growth by John C. Maxwell. I would like to share with you what I learned:
1)      Be aware of your self- talk – How do you talk to yourself? Are you your best friend and encourager or do you beat yourself up? Every time you say negative things about yourself- to yourself- you are undermining your self- worth. If you are going to successfully change the way you think about yourself, you are going to first need to become aware of what you say to yourself. Second, you must change the way you talk to yourself. You must use words of encouragement, positivity, compassion, and forgiveness. Every time you make a mistake, you must refrain from personalizing them and instead remind yourself errors are your best teacher. Remember failing experiences never have anything to do with who you are. Focus on developing positive self-talk; every time you talk positive about yourself – to yourself- you will build your self- esteem.
2)      Do not compare yourself to other people. Be happy for others accomplishments but never measure yourself relative to others. We are each a one of a kind creation. Only compare yourself to you. Focus on what you can do today to grow. Compare your improvement by measuring where you are today as a person compared to one week, one month, and one year ago. Comparing your present self to your past self is the only measurement that is meaningful.
3)      Learn to overcome your limiting beliefs. To build your self-esteem, identify something you want in life but you are being held back by a limiting belief in yourself. Write down how that limiting belief is holding you back from becoming the person you want to be. Next write down what your life will be like and feel like when you accomplish your goal. Next write down an empowering statement that you will recite to yourself daily to give you the courage to overcome your fears and limiting belief. Repeat the statement to yourself every day. Remember this quote by John Maxwell, "It isn't what you are that holds you back; it's what you think you're not."
4)      Chip away at projects that matter to you. Do you have something you want to do with your life but it just seems like an overwhelming project? Chip away at it a little each day. Your self-worth is partly based on what you accomplish every day. When you take even small steps every day in a positive direction it will boost your self-esteem.
5)      Congratulate yourself for small daily successes. Every small success is a step toward a larger accomplishment in your life. Every positive action you take on a daily basis helps you to build a belief in yourself. Take the time to congratulate yourself for every small success. There is nothing like a dose of daily self-praise to build your self-image.
6)      Focus your actions on others. When you add value to someone else's life you lift yourself up at the same time, increasing your self-esteem. It's hard not to feel good about yourself when you are contributing to the benefit of another person. Find a way to add value to others on a weekly basis.
7)      Work toward a positive vision of your best self. When you take actions every day toward a vision you possess of the person you want to become, you build your self- esteem. What do you value in life? Write them down. Taking positive actions toward your values helps you to believe in yourself.
8)      Accept responsibility for your life as it is today. Our lives today are the accumulation of our past decisions and actions. If you don't feel good about yourself, it's important to recognize you have unique talents and values you cherish. You must believe you can change and reach your full potential. You simply need to take the personal responsibility to take the first step and start moving in the direction you want your life to go.
Start today to utilize these eight ways to build your self-esteem by employing your strengths every day, working on projects that matter to you, devoting time to serve other people, and talking positively to yourself. Every time you take a step forward, say something favorable to yourself. Every time you take a step backward, look for the learning experience and use encouraging self-talk.  Every time you exert the discipline to take a small step forward, you are successfully reaching toward your full potential.
Visit our companion website for free business success information – businessknowledgestrategies.com