This is a list of books recommended for more insight on anger management: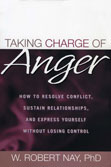 Robert Nay, Ph.D.
Taking Charge Of Anger
Find on Amazon
Dr. Nay has a six step program that can help you regain control from anger, even in the most stressful, hot-button situations. The proven program shows you how to stand up for yourself without losing your temper.
1) Figure out which of the five faces of anger are a problem for you.
2) Recognize the early warning signs of anger.
3) Identify and change unrealistic expectations.
4) Communicate effectively when differences arise.
5) How to practice management skills alone and in public.